7 PASSENGER MINIVAN
Get ready for an exciting adventure with a 7-passenger minivan 4-door Chrysler Pacifica rental for Hawaii! There's no better way to explore the stunning landscapes of Hawaii than with a spacious, comfortable, and reliable minivan. This is not just any minivan, but a Chrysler Pacifica that offers spacious seating for seven people, making it a perfect choice for families or groups of friends.
Imagine cruising along the breathtaking coastal roads, with the azure sea on one side and lush greenery on the other. The panoramic windows of the Chrysler Pacifica provide unobstructed views, allowing you to fully take in the beauty of Hawaii as you drive along. The kids will have plenty of room to stretch out in the back, and there's ample space for all your luggage and beach gear.
The Chrysler Pacifica is renowned for its smooth and comfortable ride, making those long drives around the islands a breeze. And it doesn't matter if you're planning to traverse the rugged terrain of Maui's Road to Hana or the bustling streets of Honolulu, this minivan is versatile enough to handle it all with ease.
What's more exciting is that this minivan rental in Hawaii has advanced safety features, and premium audio systems, ensuring an enjoyable and safe journey. It's like your personal tour guide all rolled into one.
But the best part is that this luxury doesn't come with a hefty price tag. You'll be surprised at how affordable it is to rent a 7-passenger minivan 4-door Chrysler Pacifica in Hawaii! This means you can enjoy the trip of a lifetime without breaking the bank.
So why wait? Pack your bags, gather your loved ones, and get ready for an unforgettable Hawaiian adventure with a 7-passenger minivan Chrysler Pacifica. It's time to turn those dreamy Hawaiian vacation plans into a reality!
If you have more than 7 passengers, HVR offers a 12 Passenger Van rental.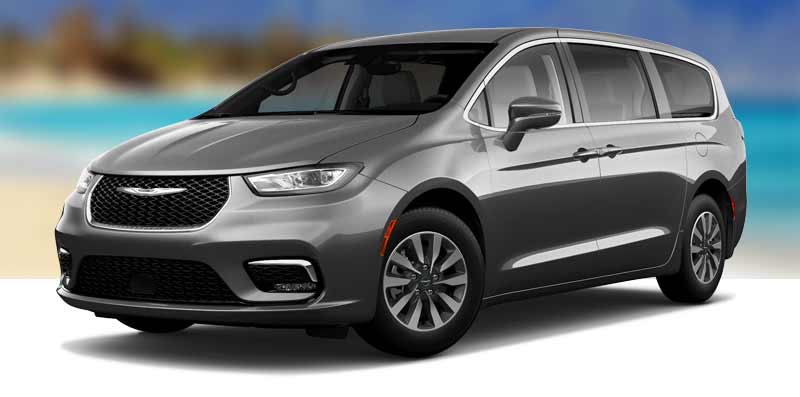 View of 7 passenger mini-van seating from above

7 Passengers
3-4 Large suitcases
Power Steering
Air Bags
Automatic Transmission
Air Conditioning
AM/FM Stereo
ABS Brakes
4-Door/7-Seat Belts
Additional options available

* or similar