Advantages of Renting a Large Van for your Hawaiian Wedding
Large passanger van makes a convenient shuttle vehicle
Use a large van for airport pick ups, as well as hauling perishable items
A large van will transport passengers to rehearsals, group activities, and the main event
Group travel is more fun and parking is easier and cheaper
Managing one designated driver is simpler
A GPS unit is handy
Two (25 yrs. or older) drivers are included with your van rental
Enjoy the advantages of renting a van for a wedding, or other large Island gathering
When planning a wedding in the Islands, consider the convenience of having a large van available for gathering travelers at the airport, shuttling sight-seers, picking up large quantities of food, flowers and other perishables, as well as getting guests to your Big Day destination, with room to spare.
For a wedding party, a large capacity van makes perfect sense. Often, family and friends arrive on multiple flights yet within an hour of each other. Why make several trips to the airport with a car, when one van trip will transport 12 or 15 passengers? Rehearsals and other pre-wedding events are more fun, as well as simpler, when the bridal party travels together.
Group activities, such as a beach outing, a restaurant visit, or a tour of the island's beauty, will be more festive in a van, and will provide plenty of room for everyone with cameras, boogie boards and/or shopping bags. Parking will be easier and less expensive with one shuttle van, rather than several vehicles. And should there be alcohol served, it takes less trouble to find one volunteer to be your designated driver.
For ease in getting around we suggest you add a GPS unit to your rental. You can always bring your own also, but make sure to retrieve it when the van goes back to its rental kiosk.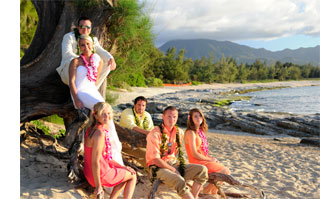 Your rental van includes the ability to have two drivers, 25 yrs. or older. When planning your wedding, you may wish to invite two guests, who are not members of the immediate wedding party, to share the job of shuttle driving. While there is added responsibility, it also affords two friends or family members an added benefit of being part of events unavailable to other guests.
There are many advantages to renting a 12 or 15-passenger van when planning an event in the Hawaiian Islands. It is a convenience for any large group of family, students or friends. From an intimate family vacation with lots of gear, to a class reunion, a van is a great asset for shuttling multiple passengers.