How to Choose the Right Van for your Group Vacation in Hawaii
With three vans sizes to choose from, it can be difficult to determine the correct vehicle for your vacation in the Hawaiian Islands. We offer a few suggestions here to make your selection easier.
A family with 2 young children might rent a 7-passenger mini-van, rather than a 5-passenger car, for its additional roominess and cargo space necessary to transport strollers, car seats and luggage.

A group of 8 friends traveling together could opt for a 12 passenger van to simply enjoy each others company while sightseeing. The larger van would also accommodate their luggage and golf clubs as well as purchases they make.

For those visitors who come to the Islands to perform or take part in competitions, a spacious 15-passenger van is a great choice. In addition to being able to shuttle a band or sports team, it also affords plenty of room for equipment.
Functionality, price and comfort are also considerations when renting a van.
A traveler with mobility issues may find a mini-van serves their individual needs. Side door access, as well as a lower profile than a larger van, come in handy when getting in and out of transportation. There's generally more room to stow a wheelchair in a mini-van than in a conventional auto.

A large group traveling together will benefit from the substantial savings of renting a van rather than individual cars. In addition to saving on rental costs, parking fees and gasoline charges will be less.

Although vans are fully outfitted with seating, a condo or rental-home owner would find a van to be a superior vehicle rental if they plan to replace accessories at their property during their visit. Our vans will easily carry paintings, small furniture, new bedding etc., not to mention bulky Costco purchases made on Oahu, Maui and the Big Island.

Van drivers and passengers enjoy a better view of the road and the tropical beauty of Hawaii. Many years ago a diminutive actress in a van ad stated: "My van makes me feel tall". Need we say more?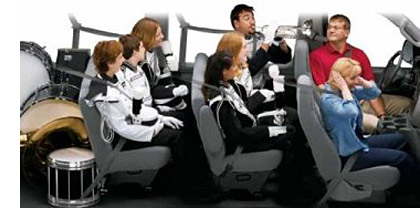 For the driver, there are additional considerations that must be weighed when operating a rental van in Hawaii.
Obeying basic driving rules is mandatory.

Expect to find that a van, especially a 12 or 15-passenger vehicle, handles differently than a passenger car and might be a bit challenging to negotiate on narrow roads or in heavy traffic.

Parking can be harder to locate, especially in congested areas like Waikiki Beach, Kona, Lahaina and other popular tourist destinations.

Consider your personal responsibility before you book your van. Your job is to transport a large group without incident. This can be stressful for a driver if his or her passengers are having way too much fun.

Large vans and SUV's make an excellent transportation choice for large weddings in Hawaii.